So, is there any relation between acid reflux and sinus congestion? The answer is a definite yes.
Sinus congestion is often caused by acid and pepsin getting into the sinuses which leads to inflammation and irritation which makes the sinuses feel congested and generally irritated.
Now I will delve deeper into how it all happens and what you can do it help prevent it from happening.
Can Acid Reflux Cause Sinus Problems?
Of course, it is possible acid can reflux up until the point where it can affect your sinuses and even cause nasal congestion. Not only can it block your sinuses, but it can also affect your breathing in some cases. As you would imagine the acid causes direct inflammation which can make the sinuses more swollen.
Also, along with the acid there is a thing called pepsin which refluxes up. Pepsin is a digestive enzyme that is produced in the stomach and is used to break down proteins in the stomach. When pepsin enters the throat and the airways it will only further irritate and inflame them.
While anyone with acid reflux can be affected it is more prominent in people who suffer from LPR (silent reflux). This is because for someone with LPR it is more typical for the acid to reflux up into the throat where it can start to reach your sinuses. Whereas for someone with GERD or just minor acid reflux it is more uncommon for acid to reflux further up the esophagus and start to affect your sinuses/breathing though it is still possible.
Understanding Pepsin and its Important Role in Sinus Congestion
Before I mentioned about pepsin and how it really causes the problems with our sinuses. I want to delve into a bit more detail about it here.
If you didn't know already pepsin is an enzyme that is produced in the stomach. As I mentioned before pepsin is used to break down proteins in the stomach. When someone has gaseous reflux, which is more typical for someone with LPR the acid from the stomach and the pepsin come up into the throat and then from there into the sinuses. This often leads to sinus inflammation or other symptoms like a dry or irritated nose, sometimes the nose may even bleed.
If you didn't know how pepsin works it basically becomes more active when the pH or acidity is more acidic, as can be seen in the chart below. When the pepsin gets into the sinuses even if you don't have acid reflux the pepsin can lay dormant which can be reactivated by coming in contact with something acidic.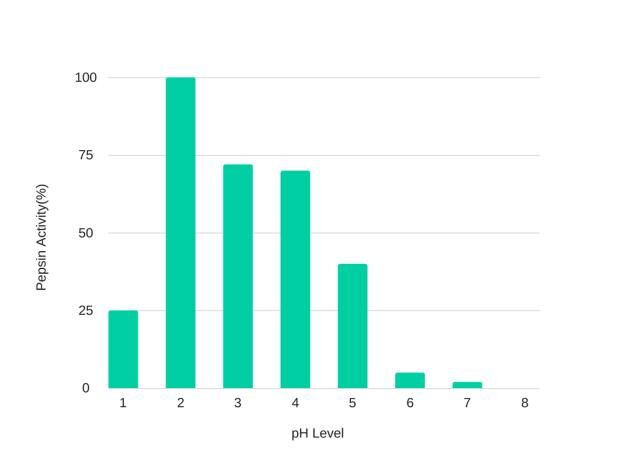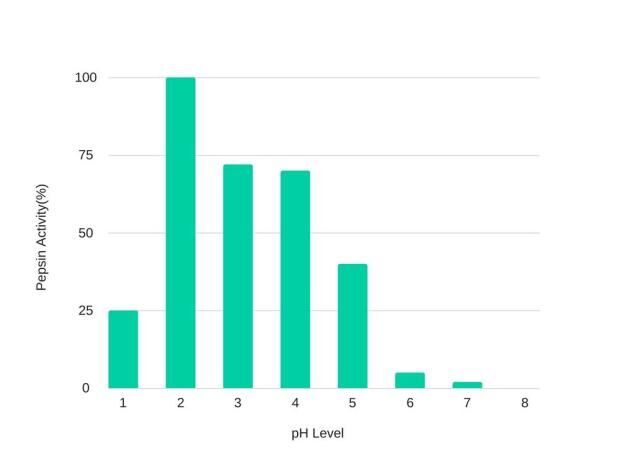 Also, when something alkaline with a pH above 8 comes into contact with it, it will neutralize it.
This is important to understand, I will cover exactly why in the section below oh how to stop acid reflux inflaming the sinuses.
How to Stop Acid Reflux from Inflaming the Sinuses
So, there are multiple ways to help ease and prevent acid reflux from irritating or inflaming the sinuses. I will cover each of the important elements below.
Diet
Probably the most important thing you should be doing is looking at your diet. You really want to follow a natural low acid diet. This should help stop or lessen the acid reflux from happening in the first place.
Firstly, check out my LPR Diet article where I cover the first steps that are important for stopping acid reflux such as eliminating triggers foods. If you want a clear and detailed diet plan tailored for people with acid reflux and silent reflux, I suggest you take a look at my Wipeout Diet Plan.
Lifestyle Changes
On top of the diet, I also highly recommend a few lifestyle changes. The most prominent ones being not eating big portions of food, not eating soon before bedtime and losing weight if you are overweight particularly around the stomach area.
To explain why – when you eat big portions of food this puts more pressure on the LES valve above the stomach and the stomach too which increases chance of valve opening and therefore acid reflux.
Not eating soon before bedtime is recommended too. This is because you don't have the advantage of gravity keeping the food down in your stomach so there is more pressure on the LES if you eat and then lay down soon after. I would suggest at least waiting 3 hours before laying down after eating, or ideally 4 hours.
Finally, the final point of being overweight around the stomach. This works on the same principle as other points that when you have more weight around the stomach this puts more pressure on the LES valve which makes it more likely to open which will increase the chance of acid reflux.
Nasal Spray
The first recommendations where around stopping or targeting the root cause of the problem. Here with the nasal spray, we are not treating the root cause though we are helping ease the sinuses quickly which can give relief within 1-3 days' time.
Keep in mind this is not any regular nasal spray and I do not recommend you use a store nasal spray for this. You must make your own nasal spray and I will explain how.
Before I explain how I want to come back to the pepsin which I talked about before. When pepsin comes into contact with an alkaline substance it becomes neutralized. Also, any acidity gets lowered when mixing with an alkaline substance which is an added benefit.
Based on this principle of how pepsin and acid work spraying an alkaline mixture into the nose can help stop or at least help sinus congestions and problems caused by acid reflux.
How we make this mixture is we get water, preferably mineral water with a higher pH ideally 8 pH or more (you can usually check it on the bottle). Then mix it with sodium bicarbonate or baking soda – this baking soda here for example. This will make a highly alkaline mixture that will neutralize and ease symptoms as I explained before.
The exact measurements are 250ml of water mixed with 7.5g (1.5 teaspoons) of baking soda based on Dr. Mark Noars Recommendation.
Once you have mixed them well add to a nasal spray bottle like these ones here.
Then simply spray one spray into the nose as show in this video. Inhaling deeply as you spray.
You can do this after eat meals and at bedtime. I found the pattern that worked best for me is 3 times per day, once after breakfast, once after the middle meal of the day and once before bedtime.
If you have more questions about how to help and stop sinus problems with acid reflux you can book a private consultation to ask me any questions about that or anything else related to acid reflux.
How to Know if it's Acid Reflux or Asthma?
Some people who may be suffering from breathing problems may have difficulty understanding if their problem is related to acid reflux or instead asthma – luckily, there is a reliable way to know the difference.
Someone who has asthma will have difficulty exhaling (breathing out) whereas someone who is being affected by acid reflux will have trouble inhaling (breathing in). This is the clear distinction between the 2 that is important to know.
It's also worth mentioning that there is a relation between acid reflux and sinusitis. If you didn't know sinusitis is a problem where the lining of the sinuses become inflamed.
One of the more common causes is due to viral infections but in our case the pepsin is causing the damage and inflammation. The same thing can also be said for postnasal drip and acid reflux. It's a cause that sometimes isn't even considered.
Frequently Asked Questions (FAQs)
Can Acid Reflux Cause Mucus?
Yes, when you reflux acid up into your throat the body's measure to protect it is to create more mucus. This can sometimes lead to excess mucus or even phlegm that's stuck in the throat.
Can a Virus Cause Acid Reflux?
Anything is possible though this wouldn't typically be a common cause.
Can a Cold Make Acid Reflux Worse?
Yes, possibly a cold could make it worse. This could be because of the cough exerting more pressure on the stomach area and chest and it can even aggravate the chest muscles which is an area that can be affected with heartburn, indigestion etc.
What's the Relationship Between GERD and Sinusitis?
Acid reflux can cause sinus issues so there is a definite possibility that GERD is causing your sinusitis. In fact the more appropriate term is Laryngopharyngeal Reflux which is a different form of acid reflux which primarily affects around the throat area and a typical symptom with it is sinus and breathing issues.
Can Omeprazole Cause Sinus Problems?
No omeprazole shouldn't cause sinus problems. Though acid reflux can cause it. Importantly this kind of acid reflux called – Laryngopharyngeal Reflux (silent reflux).